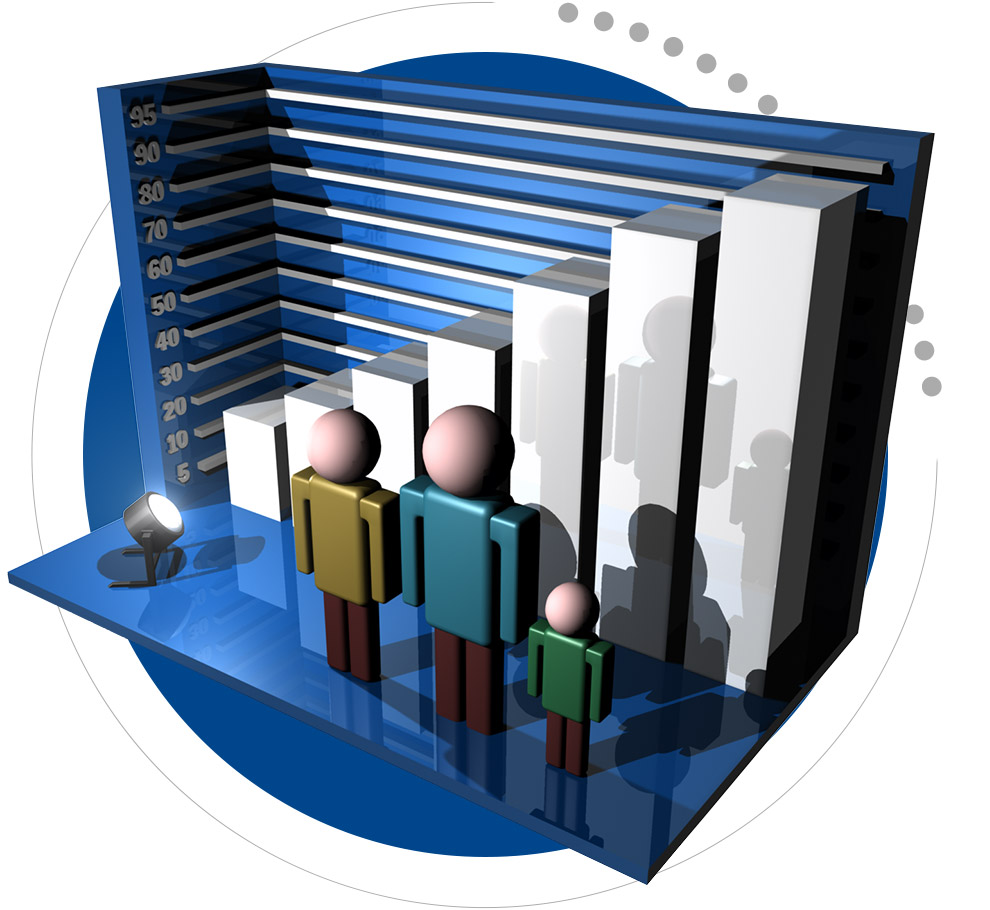 ACGA Rates
In April of 2017, the American Council on Gift Annuities (ACGA) Board of Directors voted to leave its schedule of suggested maximum charitable gift annuity (CGA) rates unchanged as of April 24, 2017. The rate schedule was originally published as of January 1, 2012 and will continue in effect until further notice.
The ACGA rate schedule reflects a gross annual expected total return on invested gift annuity assets of 4.25%. This return is based on a model portfolio with an asset allocation of 40% equities, 55% fixed income, and 5% cash. The gross investment return of 4.25% is reduced by an expense assumption of 1.0%.
The actuaries employed by the ACGA use the above assumptions to develop a rate schedule that would produce, for any given age, a nominal dollar residuum equal to 50% of the contribution for the gift annuity (for example, a $10,000 residuum for a $20,000 gift). Additionally, the present value of the 50% residuum must be at least 20% of the original contribution. If the present value is below 20%, the rate for that age is reduced until the present value is at least 20% of the contribution.
ACGA Rates for a Single Life (Effective January 1, 2012)
| | |
| --- | --- |
| Age | Rate |
| 5 and under | 2.0 |
| 6 | 2.0 |
| 7 | 2.0 |
| 8 | 2.0 |
| 9 | 2.0 |
| 10 | 2.1 |
| 11 | 2.1 |
| 12 | 2.1 |
| 13 | 2.1 |
| 14 | 2.1 |
| 15 | 2.1 |
| 16 | 2.2 |
| 17 | 2.2 |
| 18 | 2.2 |
| 19 | 2.2 |
| 20 | 2.3 |
| 21 | 2.3 |
| 22 | 2.3 |
| 23 | 2.3 |
| 24 | 2.4 |
| 25 | 2.4 |
| 26 | 2.4 |
| 27 | 2.5 |
| 28 | 2.5 |
| 29 | 2.5 |
| 30 | 2.6 |
| 31 | 2.6 |
| 32 | 2.6 |
| 33 | 2.7 |
| 34 | 2.7 |
| 35 | 2.8 |
| | |
| --- | --- |
| Age | Rate |
| 36 | 2.8 |
| 37 | 2.9 |
| 38 | 2.9 |
| 39 | 3.0 |
| 40 | 3.0 |
| 41 | 3.1 |
| 42 | 3.1 |
| 43 | 3.2 |
| 44 | 3,3 |
| 45 | 3.3 |
| 46 | 3.4 |
| 47 | 3.5 |
| 48 | 3.6 |
| 49 | 3.6 |
| 50 | 3.7 |
| 51 | 3.8 |
| 52 | 3.8 |
| 53 | 3.9 |
| 54 | 3.9 |
| 55 | 4.0 |
| 56 | 4.1 |
| 57 | 4.1 |
| 58 | 4.2 |
| 59 | 4.3 |
| 60 | 4.4 |
| 61 | 4.4 |
| 62 | 4.5 |
| 63 | 4.5 |
| 64 | 4.6 |
| 65 | 4.7 |
| | |
| --- | --- |
| Age | Rate |
| 66 | 4.8 |
| 67 | 4.8 |
| 68 | 4.9 |
| 69 | 5.0 |
| 70 | 5.1 |
| 71 | 5.3 |
| 72 | 5.4 |
| 73 | 5.5 |
| 74 | 5.7 |
| 75 | 5.8 |
| 76 | 6.0 |
| 77 | 6.2 |
| 78 | 6.4 |
| 79 | 6.6 |
| 80 | 6.8 |
| 81 | 7.0 |
| 82 | 7.2 |
| 83 | 7.4 |
| 84 | 7.6 |
| 85 | 7.8 |
| 86 | 8.0 |
| 87 | 8.2 |
| 88 | 8.4 |
| 89 | 8.7 |
| 90 | 9.0 |
| 91 | 9.0 |
| 92 | 9.0 |
| 93 | 9.0 |
| 94 | 9.0 |
| 95 and over | 9.0 |
ACGA Rates for Two Lives - Joint and Survivor (Effective January 1, 2012)
| | | |
| --- | --- | --- |
| Younger Age | Older Age | Rate |
| 5 and Under | All* | 1.8 |
| 6 | 6-95+ | 1.8 |
| 7 | 7-95+ | 1.8 |
| 8 | 8-95+ | 1.8 |
| 9 | 9-95+ | 1.8 |
| 10 | 10-95+ | 1.8 |
| 11 | 11-95+ | 1.9 |
| 12 | 12-95+ | 1.9 |
| 13 | 13-95+ | 1.9 |
| 14 | 14-95+ | 1.9 |
| 15 | 15-95+ | 1.9 |
| 16 | 16-95+ | 2.0 |
| 17 | 17-95+ | 2.0 |
| 18 | 18-95+ | 2.0 |
| 19 | 19-95+ | 2.0 |
| 20 | 20-95+ | 2.1 |
| 21 | 21-95+ | 2.1 |
| 22 | 22-95+ | 2.1 |
| 23 | 23-95+ | 2.1 |
| 24 | 24-95+ | 2.1 |
| 25 | 25-95+ | 2.2 |
| 26 | 26-95+ | 2.2 |
| 27 | 27-95+ | 2.2 |
| 28 | 28-95+ | 2.2 |
| 29 | 29-95+ | 2.3 |
| 30 | 30-95+ | 2.3 |
| 31 | 31-95+ | 2.3 |
| 32 | 32-95+ | 2.3 |
| 33 | 33-95+ | 2.4 |
| 34 | 34-95+ | 2.4 |
| 35 | 35-95+ | 2.4 |
| 36 | 36-95+ | 2.5 |
| 37 | 37-95+ | 2.5 |
| 38 | 38-95+ | 2.5 |
| 39 | 39-95+ | 2.6 |
| 40 | 40-95+ | 2.6 |
| 41 | 41-95+ | 2.7 |
| 42 | 42-95+ | 2.7 |
| 43 | 43-95+ | 2.8 |
| 44 | 44-95+ | 2.8 |
| 45 | 45-95+ | 2.9 |
| 46 | 46-95+ | 2.9 |
| 47 | 47-50 | 3.0 |
| 47 | 51-95+ | 3.1 |
| 48 | 48 | 3.0 |
| 48 | 49-95+ | 3.1 |
| 49 | 49-51 | 3.1 |
| 49 | 52-95+ | 3.2 |
| 50 | 50 | 3.1 |
| 50 | 51-53 | 3.2 |
| 50 | 54-95+ | 3.3 |
| 51 | 51-52 | 3.2 |
| 51 | 53-55 | 3.3 |
| 51 | 56-95+ | 3.4 |
| 52 | 52-54 | 3.3 |
| 52 | 55-95+ | 3.4 |
| 53 | 53-55 | 3.4 |
| 53 | 56-58 | 3.5 |
| 53 | 59-95+ | 3.6 |
| 54 | 54 | 3.4 |
| 54 | 55-57 | 3.5 |
| 54 | 58-95+ | 3.6 |
| 55 | 55 | 3.5 |
| 55 | 56-58 | 3.6 |
| 55 | 59-61 | 3.7 |
| 55 | 62-95+ | 3.8 |
| 56 | 56-57 | 3.6 |
| 56 | 58-59 | 3.7 |
| 56 | 60-62 | 3.8 |
| 56 | 63-95+ | 3.9 |
| 57 | 57-58 | 3.7 |
| 57 | 59-63 | 3.8 |
| 57 | 64-95+ | 3.9 |
| 58 | 58-61 | 3.8 |
| 58 | 62-65 | 3.9 |
| 58 | 66-95+ | 4.0 |
| 59 | 59-60 | 3.8 |
| 59 | 61-63 | 3.9 |
| 59 | 64-68 | 4.0 |
| 59 | 69-95+ | 4.1 |
| 60 | 60-62 | 3.9 |
| 60 | 63-66 | 4.0 |
| 60 | 67-70 | 4.1 |
| 60 | 71-95+ | 4.2 |
| 61 | 61 | 3.9 |
| 61 | 62-64 | 4.0 |
| 61 | 65-68 | 4.1 |
| 61 | 69-95+ | 4.2 |
| 62 | 62-63 | 4.0 |
| 62 | 64-66 | 4.1 |
| 62 | 67-69 | 4.2 |
| 62 | 70-95+ | 4.3 |
| 63 | 63-64 | 4.1 |
| 63 | 65-67 | 4.2 |
| | | |
| --- | --- | --- |
| Younger Age | Older Age | Rate |
| 63 | 68-95+ | 4.3 |
| 64 | 64-66 | 4.2 |
| 64 | 67-70 | 4.3 |
| 64 | 71-95+ | 4.4 |
| 65 | 65 | 4.2 |
| 65 | 66-68 | 4.3 |
| 65 | 69-72 | 4.4 |
| 65 | 73-95+ | 4.5 |
| 66 | 66-67 | 4.3 |
| 66 | 68-71 | 4.4 |
| 66 | 72-75 | 4.5 |
| 66 | 76-95+ | 4.6 |
| 67 | 67-69 | 4.4 |
| 67 | 70-73 | 4.5 |
| 67 | 74-95+ | 4.6 |
| 68 | 68 | 4.4 |
| 68 | 69-71 | 4.5 |
| 68 | 72-75 | 4.6 |
| 68 | 76-95+ | 4.7 |
| 69 | 69-70 | 4.5 |
| 69 | 71-73 | 4.6 |
| 69 | 74-76 | 4.7 |
| 69 | 77-95+ | 4.8 |
| 70 | 70-71 | 4.6 |
| 70 | 72-74 | 4.7 |
| 70 | 75-78 | 4.8 |
| 70 | 79-95+ | 4.9 |
| 71 | 71-73 | 4.7 |
| 71 | 74-75 | 4.8 |
| 71 | 76-79 | 4.9 |
| 71 | 80-82 | 5.0 |
| 71 | 83-95+ | 5.1 |
| 72 | 72 | 4.7 |
| 72 | 73-74 | 4.8 |
| 72 | 75-76 | 4.9 |
| 72 | 77-79 | 5.0 |
| 72 | 80-83 | 5.1 |
| 72 | 84-95+ | 5.2 |
| 73 | 73 | 4.8 |
| 73 | 74-75 | 4.9 |
| 73 | 76-77 | 5.0 |
| 73 | 78-80 | 5.1 |
| 73 | 81-83 | 5.2 |
| 73 | 84-95+ | 5.3 |
| 74 | 74 | 4.9 |
| 74 | 75-76 | 5.0 |
| 74 | 77-78 | 5.1 |
| 74 | 79-80 | 5.2 |
| 74 | 81-83 | 5.3 |
| 74 | 84-87 | 5.4 |
| 74 | 88-95+ | 5.5 |
| 75 | 75 | 5.0 |
| 75 | 76-77 | 5.1 |
| 75 | 78 | 5.2 |
| 75 | 79-81 | 5.3 |
| 75 | 82-83 | 5.4 |
| 75 | 84-86 | 5.5 |
| 75 | 87-95+ | 5.6 |
| 76 | 76-77 | 5.2 |
| 76 | 78-79 | 5.3 |
| 76 | 80-81 | 5.4 |
| 76 | 82-83 | 5.5 |
| 76 | 84-85 | 5.6 |
| 76 | 86-88 | 5.7 |
| 76 | 89-95+ | 5.8 |
| 77 | 77-78 | 5.3 |
| 77 | 79 | 5.4 |
| 77 | 80-81 | 5.5 |
| 77 | 82-83 | 5.6 |
| 77 | 84-85 | 5.7 |
| 77 | 86-87 | 5.8 |
| 77 | 88-91 | 5.9 |
| 77 | 92-95+ | 6.0 |
| 78 | 78 | 5.4 |
| 78 | 79 | 5.5 |
| 78 | 80-81 | 5.6 |
| 78 | 82-83 | 5.7 |
| 78 | 84 | 5.8 |
| 78 | 85-86 | 5.9 |
| 78 | 87-89 | 6.0 |
| 78 | 90-92 | 6.1 |
| 78 | 93-95+ | 6.2 |
| 79 | 79-80 | 5.6 |
| 79 | 81 | 5.7 |
| 79 | 82 | 5.8 |
| 79 | 83-84 | 5.9 |
| 79 | 85-86 | 6.0 |
| 79 | 87-88 | 6.1 |
| 79 | 89-90 | 6.2 |
| 79 | 91-93 | 6.3 |
| 79 | 94-95+ | 6.4 |
| 80 | 80 | 5.7 |
| 80 | 81 | 5.8 |
| 80 | 82 | 5.9 |
| | | |
| --- | --- | --- |
| Younger Age | Older Age | Rate |
| 80 | 83-84 | 6.0 |
| 80 | 85 | 6.1 |
| 80 | 86-87 | 6.2 |
| 80 | 88-89 | 6.3 |
| 80 | 90-91 | 6.4 |
| 80 | 92-93 | 6.5 |
| 80 | 94-95+ | 6.6 |
| 81 | 81 | 5.9 |
| 81 | 82 | 6.0 |
| 81 | 83 | 6.1 |
| 81 | 84-85 | 6.2 |
| 81 | 86 | 6.3 |
| 81 | 87-88 | 6.4 |
| 81 | 89 | 6.5 |
| 81 | 90-91 | 6.6 |
| 81 | 92-94 | 6.7 |
| 81 | 95+ | 6.8 |
| 82 | 82 | 6.1 |
| 82 | 83 | 6.2 |
| 82 | 84 | 6.3 |
| 82 | 85-86 | 6.4 |
| 82 | 87 | 6.5 |
| 82 | 88 | 6.6 |
| 82 | 89-90 | 6.7 |
| 82 | 91 | 6.8 |
| 82 | 92-93 | 6.9 |
| 82 | 94-95+ | 7.0 |
| 83 | 83 | 6.3 |
| 83 | 84 | 6.4 |
| 83 | 85 | 6.5 |
| 83 | 86 | 6.6 |
| 83 | 87 | 6.7 |
| 83 | 88-89 | 6.8 |
| 83 | 90 | 6.9 |
| 83 | 91 | 7.0 |
| 83 | 92-93 | 7.1 |
| 83 | 94-95+ | 7.2 |
| 84 | 84 | 6.5 |
| 84 | 85 | 6.6 |
| 84 | 86 | 6.7 |
| 84 | 87 | 6.8 |
| 84 | 88 | 6.9 |
| 84 | 89 | 7.0 |
| 84 | 90 | 7.1 |
| 84 | 91 | 7.2 |
| 84 | 92-93 | 7.3 |
| 84 | 94-95+ | 7.4 |
| 85 | 85 | 6.7 |
| 85 | 86 | 6.9 |
| 85 | 87 | 7.0 |
| 85 | 88 | 7.1 |
| 85 | 89 | 7.2 |
| 85 | 90 | 7.3 |
| 85 | 91 | 7.4 |
| 85 | 92 | 7.5 |
| 85 | 93-95+ | 7.6 |
| 86 | 86 | 7.0 |
| 86 | 87 | 7.1 |
| 86 | 88 | 7.3 |
| 86 | 89 | 7.4 |
| 86 | 90 | 7.5 |
| 86 | 91 | 7.6 |
| 86 | 92 | 7.7 |
| 86 | 93-95+ | 7.8 |
| 87 | 87 | 7.3 |
| 87 | 88 | 7.4 |
| 87 | 89 | 7.5 |
| 87 | 90 | 7.7 |
| 87 | 91 | 7.8 |
| 87 | 92 | 7.9 |
| 87 | 93-95+ | 8.0 |
| 88 | 88 | 7.6 |
| 88 | 89 | 7.7 |
| 88 | 90 | 7.9 |
| 88 | 91 | 8.0 |
| 88 | 92 | 8.1 |
| 88 | 93-95+ | 8.2 |
| 89 | 89 | 7.9 |
| 89 | 90 | 8.0 |
| 89 | 91 | 8.2 |
| 89 | 92 | 8.3 |
| 89 | 93-95+ | 8.5 |
| 90 | 90 | 8.2 |
| 90 | 91 | 8.4 |
| 90 | 92 | 8.5 |
| 90 | 93 | 8.7 |
| 90 | 94-95+ | 8.8 |
| 91 | 91 | 8.6 |
| 91 | 92 | 8.7 |
| 91 | 93-95+ | 8.8 |
| 92 | 92-95+ | 8.8 |
| 93 | 93-95+ | 8.8 |
| 94 | 94-95+ | 8.8 |
| 95 | 95+ | 8.8 |